SRC Recovery Shorts - Mini
Availability:In Stock

Brand: SRC

Product Code: SRC Recovery Shorts - Mini
If you are unsure of your size please Contact Us so we can help you determine your best fit
SRC Health has received an exclusive Endorsement by the Australian Physiotherapist Association (APA) for the SRC Pregnancy, Recovery, SurgiHeal & Sports products – Read More
For details on SRC's True Cross Compression Technology – Click Here
The SRC Recovery Shorts Mini Length provide you with the support to move more freely post-delivery and make lifting, feeding, bathing and caring for your baby much easier.
The difference between the Mini Length Recovery Shorts and the "original" Knee Length Recovery Shorts is the length.
The Mini Length provides you with increased versatility, fitting under shorter length dresses, skirts and shorts, while the Knee Length Recovery Shorts provide a better level of venous return.
Do you want to speed up your post pregnancy recovery:
Regain your pre-baby body?

Recovery from C-section or perineal trauma?

Abdominal Muscle Separation (Diastasis Rectus Abdominus Muscle DRAM)?

Increase stability and mobility?
Why SRC Recovery Shorts - Mini Length?
SRC Recovery Shorts - Mini Length assist in speeding up recovery after pregnancy by addressing the 3 most common and important conditions post birth:
1. Abdominal Muscle Separation (DRAM)
2. C-Section and Perineal Trauma / Stitches
3. Low Back Pain
For more info please Click Here
How do Compression Garments work to promote Post-Pregnancy Recovery?
1. Activate Muscles
The unique SRC garment technology promotes muscle stimulation and activation by providing gentle compression / light pressure to the pelvis, back and abdominal muscles. This is not possible if you choose a corset, girdle, or rigid support garment. From day 1 you can be confident in the knowledge that your SRC Recovery Shorts Mini Length are doing their job even when you're not active.
2. Reduce Swelling
Fitting like a second skin, the gentle compression helps you get mobile sooner after both a vaginal or C-section delivery.
3. Reduces Pain and Provides Wound Support
SRC compression garments provide gentle compression to a wound area. Whether you have had a C-section delivery or stitches/tears to the perineum, the SRC Recovery Shorts Mini Length reduce wound swelling and pain and promote a faster and safer recovery.
Why are SRC Recovery Shorts Mini Length recommended by Health Care Professionals?
SRC Recovery Shorts Mini Length have been designed in consultation with Obstetrician Dr. Grant Saffer. Anatomically designed support panels fit with the natural curves of the female anatomy whilst delivering consistent gentle medical grade compression at 4-15mmHg. The garment delivers exceptional fit and maximum support without any feeling of restriction. Designed for use in the first 8-10 weeks after delivery they can be worn for as long as they provide benefit, and many women continue to wear their recovery shorts for exercise or for aesthetic reasons under fitted clothing.
SRC Women's compression shorts feature a proprietary luxurious fabric and breathable power mesh lining. These fabrics are independently and scientifically tested. Test results show that our fabric and its construction is not only of the highest quality but it consistently delivers continuous gentle graduated compression over time. To achieve this, high performance fabric panels are cut in multiple planes to provide multi-directional stretch performance which means that SRC compression garments retain their stretch and strength characteristics longer than some leading sports performance brands.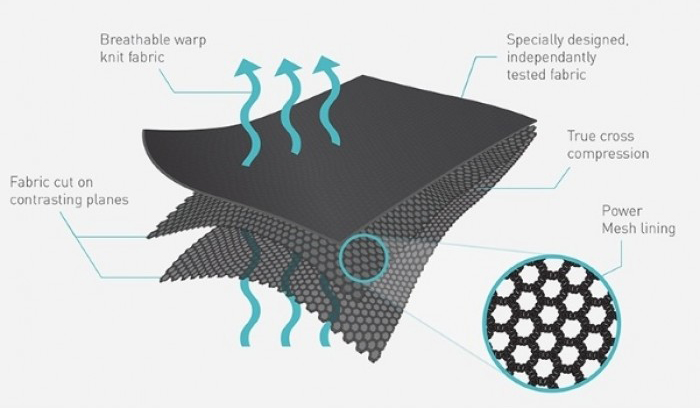 Achieving Optimal Results
Begin wearing your SRC Recovery Shorts Mini Length as soon as you feel able post delivery. It may take a few days for your SRC Recovery Shorts Mini to feel fully comfortable because of fluid retention.
Please be advised that if you have had stitches to the perineal area following a vaginal delivery you should change your maternity pad every 2 hours. DO NOT wear a pad that has a plastic backing. This may cause the area to sweat which will increase the risk of infection. Wash the area with salt water and dry well following each pad change. Wear your recovery shorts during the day only while your perineal stitches are healing. Once the area is fully healed you can wear them both day and night.
SRC Recovery Shorts Mini can be worn both day and night. Wear your SRC Recovery Shorts Mini for as many hours as you wish. Your SRC Recovery Shorts Mini should feel supportive without any feeling of restriction. During pregnancy some women find that their ribs expand to accommodate the growing foetus. If so, the elastic at the top may feel a little tight even though the garment is otherwise comfortable. This is easily resolved by putting the elastic on continuous gentle stretch for a number of hours. Please contact us should you require any further information.
Alternate between your SRC Recovery Shorts Mini Length and your SRC Sport garment as soon as you feel you no longer require as much upper abdominal support through the entire day and the swelling of the upper abdominal area has significantly reduced.
SRC Sport garments have been designed to allow you to comfortably return to exercise, all the while knowing that your pelvis, lower back and legs are supported. It is important to note that your SRC Recovery Shorts Mini will perform best when washed every 3 days. For continued support wear your SRC Sports garments during this time.
Colour:
Black or Champagne
Sizes:
XXS, XS, S, M, L, XL & XXL
The SRC Recovery range is not to be worn or tried on at any stage during your pregnancy. To view the SRC Pregnancy garments please click here.
See FAQ's

Here
How to Measure for Correct Sizing:
Do not take your own measurements, always get someone to measure you.
Measure in your underwear only. Stand with your heels together and keep the measuring tape straight. Place the tape over your hips, pubic bone and bottom at the fullest part. The tape should touch your body at all points but not pulled tight.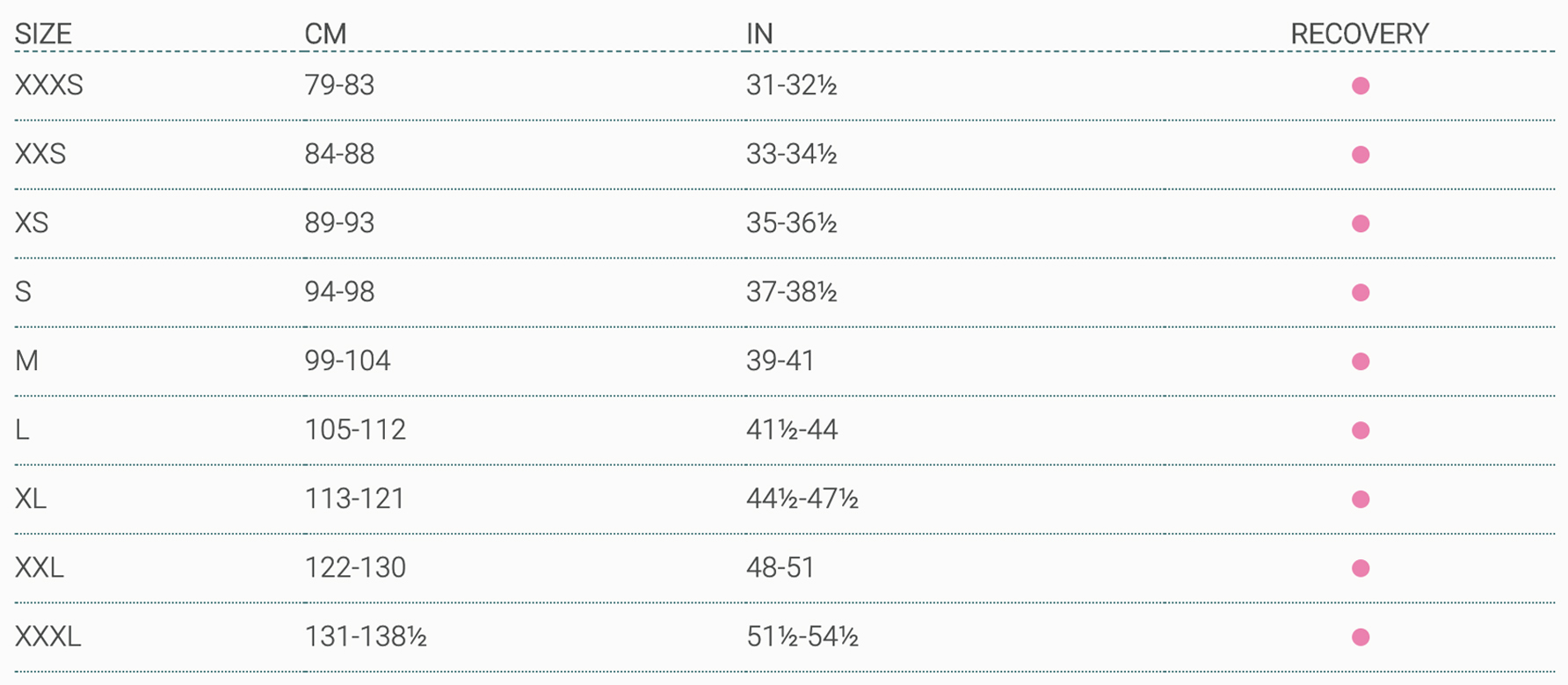 SRC advise that you measure and order your SRC Recovery Shorts and Leggings during or after the 36th week of pregnancy as your hip measurements may change during early to mid-pregnancy. If you already have had your baby you can measure at any time.
Should you find that you are in between sizes or just into the next size SRC recommend that you choose the smaller size because of fluid loss post-birth.
If you are unsure about your size please Contact Us so we can help you determine your best fit.