SRC Sports Leggings - Full Length
Availability:In Stock

Brand: SRC

Product Code: SRC Sports Leggings - Full Length
We proudly support PADA and Father & Child to ensure holistic wellbeing of women, fathers & whanau during the child birth experience.
SRC Health has received an exclusive Endorsement by the Australian Physiotherapist Association (APA) for the SRC Pregnancy, Recovery, SurgiHeal & Sports products – Read More
For details on SRC's True Cross Compression Technology – Click Here
The SRC Sports Leggings were designed specifically for exercise post childbirth. Please note however that during the initial recovery period of 10-12 weeks the SRC Recovery garment should be used for optimal recovery.
*Please Note - this product is not to be worn at any stage during your pregnancy. To view the SRC Pregnancy garments please click here.
Designed by women for women, the SRC Sports Leggings:
Utilise the patented SRC Anatomical Support Panels (ASP) to deliver targeted compression to protect and stabilise the pelvis and support the perineum, lower back and leg muscles.

Enhance athletic performance and muscle recovery.

Provide general support and muscle activation during your busy day and when engaging in activities such as walking, jogging, Pilates, weight routines, cycling, tennis etc.

Use proprietary lightweight & breathable fabrics with superior comfort during exercise which are 'squat proof' and not see through.

Present a longer lasting garment tested to retain compression levels after up to 100 washes.

Incorporate True Cross Compression with each layer of fabric cut on a different plane so that during activity no compression is lost at any time. The unique fabric stretches and returns to its original shape consistently after wash and wear.
How do SRC Compression Sports Leggings Work?
Accelerated Muscle Recovery (AMR) can be achieved by decreasing inflammation in the body to an acceptable level through improved circulation. Some inflammation is necessary for repair and recovery to begin but too much inflammation can lead to injuries. Graduated medical grade compression (4-15mmHg) in the SRC Sports garments improves circulation and oxygen delivery during and after exercise, decreasing inflammation and accelerating muscle recovery, removing waste products from your muscles, such as lactic acid after exercise. The graduated compression in the SRC compression garments also provides continuous muscle stimulation, enhancing performance by "activating muscles"; potentially correcting muscular imbalances and reducing muscle oscillations.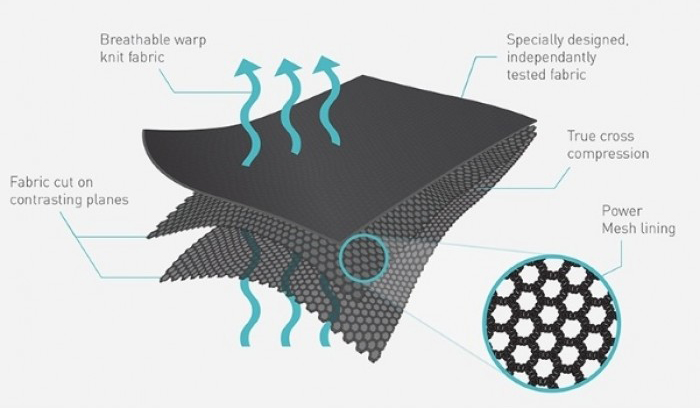 Who do SRC Sports Leggings help?
Women wanting superior pelvic, lower abdominal and back support.

Those looking to enhance athletic performance and muscle recovery post activity.

Lower back and Pelvic Girdle pain (PGP) sufferers.

Injury prone women who want to stay active and safe for longer.

Those looking to improve core stability.
Better Performing, Longer Lasting Garments
The proprietary luxurious fabric and breathable power mesh lining are designed and tested specifically for SRC Health. This breathable fabric assists with regulation of body temperature by allowing air circulation and heat dissipation. Each layer of fabric is cut on a different plane so that during activity no compression is lost at any time. The unique fabric stretches and returns to its original shape consistently after wash and wear - what we call 'True Cross Compression' and extends the life of the garment.
Core Stability & Gluteal Amnesia
The two areas of our bodies that have suffered most as a result of our modern, sedentary, desk bound lifestyle, are our Core and Glutes, both taking on additional responsibility during and after pregnancy, both critical for good health and wellbeing, in conjunction with a tailored exercise program, prescribed by a women's health care professional like a Women's Health Physiotherapist, SRC Sports Leggings may assist with both conditions. The principle is exactly the same as the way in which the SRC Recovery garments work with health DRAM. The SRC Anatomical Support Panels, in all of the SRC Health compression garments, are designed to fit the female anatomy and work with the natural curves and muscle orientation, ensuring delivery of consistent gentle medical grade compression while providing structure to the garment for exceptional fit and maximum support without any feeling of restriction. A holistic approach to treating gluteal amnesia or "dead butt syndrome" should incorporate regular breaks from sitting, regular stretching, and a tailored exercise program. The Anatomical Support Panels in the SRC Sports Leggings activate and stabilise lower abdominal, lower back muscles and the perineum. The leg panel of the garment provides gentle compression and activation of the gluteal area adding another passive way of activating your glutes throughout the day.
Colour:
Black
Sizes:
XXS, XS, S, M, L, XL & XXL
See FAQ's

Here
How to Measure for Correct Sizing:
Do not take your own measurements, always get someone to measure you.
Measure in your underwear only. Stand with your heels together and keep the measuring tape straight. Place the tape over your hips, pubic bone and bottom at the fullest part. The tape should touch your body at all points but not pulled tight.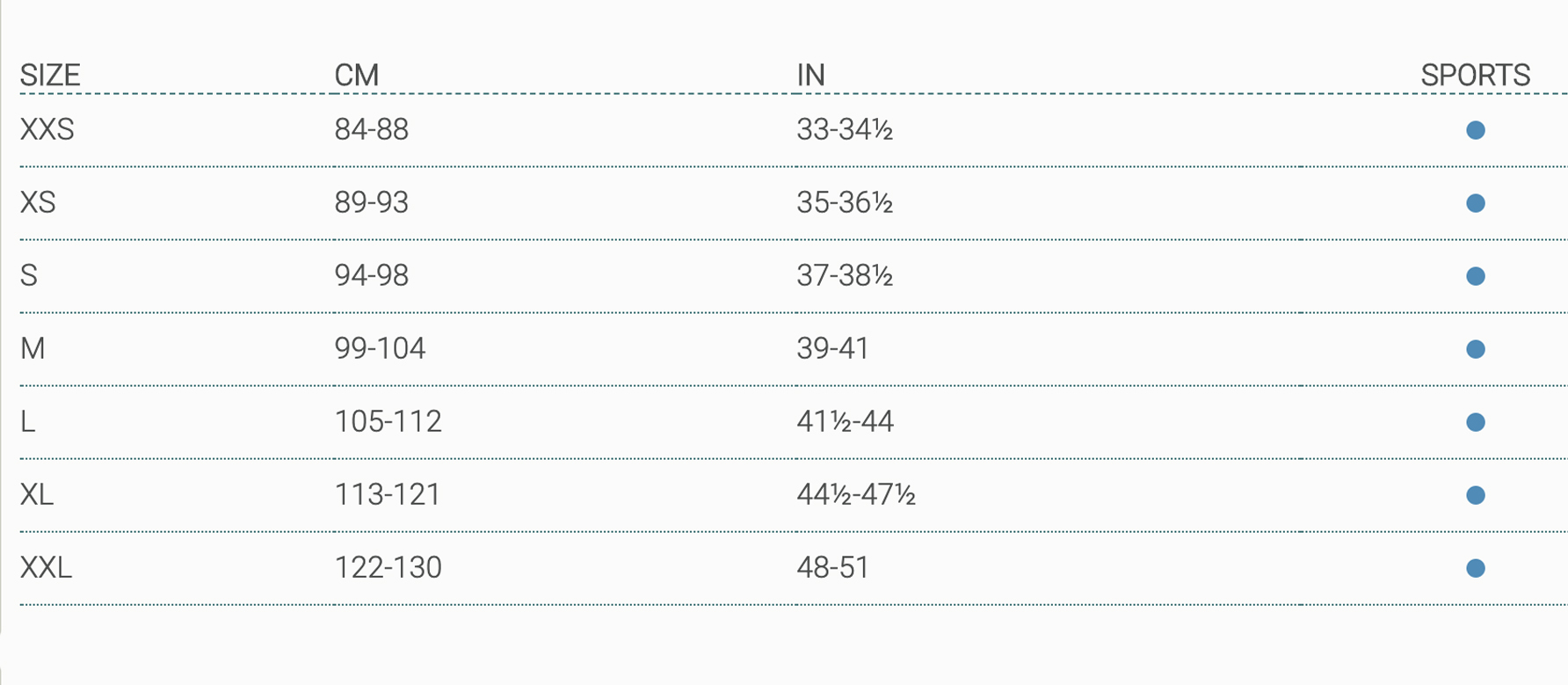 If you are unsure about your size please Contact Us so we can help you determine your best fit.